Memorial recognizes two more Muslims convicted of involvement in Hizb ut-Tahrir as political prisoners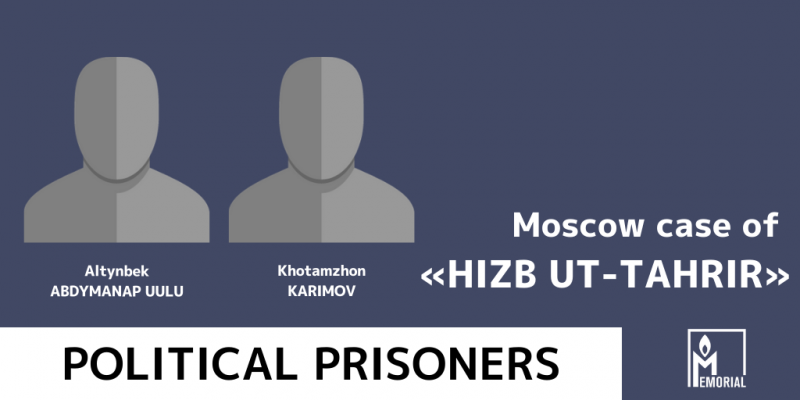 Memorial Human Rights Centre believes Altynbek Abdymanap uulu and Khotamzhon Karimov — two Muslims, from Moscow and Penza regions respectively — are being prosecuted for political reasons on account of their non-violent exercise of the rights to freedom of conscience, religion and association. In accordance with international criteria, Khotamzhon Karimov and Altynbek Abdymanap uulu are political prisoners. Memorial demands their immediate release.
What is known about the prosecutions of the two Muslims?
Altynbek Abdymanap uulu learned about the meetings held for the purpose of studying Islam in the winter 2014. On 25 January 2015 he attended a meeting for the first time and learned they were run by Hizb ut-Tahrir. Participants took turns reading out extracts from religious books and the leader of the meeting commented on the texts and explained their essence. After the meeting, Abdymanap learned from the media that Hizb ut-Tahrir had been designated a terrorist organization in Russia and banned. Abdymanap said he never attended such meetings again. On 28 March 2017 he was arrested.
Karimov became interested in the activities of Hizb ut-Tahrir at the end of the winter of 2014. He took part in several meetings, at one of which he was given a copy of the brochure, The Vision of Hizb ut-Tahrir, to read. In 2015 Karimov did not respond to an invitation to join the organization. When he learned from the media about the arrest of Hizb ut-Tahrir members he stopped attending the meetings. Karimov and his family moved to Penza region. On 28 March 2017 he was arrested. When his house was searched the copy of the brochure, The Vision of Hizb ut-Tahrir, was found.
On 2 April 2018 Moscow District Military Court sentenced Abdymanap and Karimov to terms of 10 and 11 years in a strict regime prison colony, respectively, on charges of participation in the activities of a terrorist organization (Part 2 of Article 205.5 of the Russian Criminal Code).
The court considered it proven that Karimov and Abdymanap joined Hizb ut-Tahrir in Moscow, were aware of its terrorist orientation and their own membership of the organization, and obeyed the organization's discipline in accordance with the group's established hierarchy.
Abdymanap and Karimov both pleaded guilty in part. The investigators could not prove that the defendants had joined the organization. According to the testimony of the sole witness, the two men were considered to be only pupils. Both defendants stated they had ceased all participation in Hizb ut-Tahrir's activities in 2015. Nevertheless, the court considered their involvement in the organization continued up until their arrests in March 2017.
Why Memorial considers the two individuals political prisoners
The convicted Muslims were guilty of nothing more than being members of a civil society association. They were not charged with preparing terrorist attacks or voicing terrorist threats. There is not a single piece of evidence in the case to show that the defendants committed or planned to commit violence, still less actions that could be called terrorist in the accepted meaning of the word.
Memorial considers the designation of Hizb ut-Tahrir as a terrorist organization to be unlawful. The decision of the Supreme Court, adopted in 2003 at a closed session without the participation of Hizb ut-Tahrir representatives, contained one paragraph of three sentences dealing with the organization. The three sentences contain no evidence of terrorist activities.
The designation of Hizb ut-Tahrir as 'terrorist' has made it possible to define all its activities, including meetings, tea-drinking sessions and prayers, as terrorist activities, and to consider the purchase of its literature, and the making of donations to help those with the same beliefs who have been arrested, as the financing of terrorism.
It should be noted that Article 28 of the Russian Constitution protects these actions of believers. Article 28 guarantees everyone 'freedom of conscience, freedom of religion, including the right, individually or in community with others, to profess any religion or not to profess any religion, to freely choose, have and disseminate religious and other beliefs and to act in accordance with them.'
In the years since the designation of Hizb ut-Tahrir as terrorist, hundreds of Muslims have been convicted on charges related to their involvement in the organization. With the passing of each year, the courts have imposed ever longer sentences of imprisonment on the believers (up to 24 years in a strict regime prison colony). At the present time, more than 300 people are being prosecuted on charges of involvement in Hizb ut-Tahrir.
The 'solving' of a series of cases related to Hizb ut-Tahrir has been made extremely easy in order to enable the security services to achieve maximum results with minimum effort. The security services have been granted the opportunity to improve their statistics for solving crimes many times over (thereby demonstrating their own utility). They have manipulated public notions of the terrorist threat and substituted the pretence of a struggle against terrorism for the real thing. At the same time, these exaggerated notions about the terrorist threat have been used to justify the adoption of laws restricting the rights of citizens. In this way, we see the pretence of a struggle against terrorism works to strengthen the powers of the authorities.
More information about this case and the position of Memorial Human Rights Centre is available on our website.
Recognition of an individual as a political prisoner does not imply Memorial Human Rights Centre agrees with their views or statements, or approves their statements or actions.
You can support all political prisoners by donating to the Fund to Support Political Prisoners of the Union of Solidarity with Political Prisoners via PayPal, using the e-wallet at helppoliticalprisoners@gmail.com.
Die Lage der politischen Gefangenen und andere Menschenrechtsprobleme verschärfen sich von Jahr zu Jahr. Wir beleben den Dialog zwischen der russischen und der deutschen Menschenrechtsgemeinschaft wieder und bauen ihre konstruktive Interaktion, wechselseitige Information und Unterstützung auf.
Wir stellen Informationen für die deutsche Öffentlichkeit über die Situation des Schutzes von Menschenrechten in Russland und Belarus zur Verfügung und die russische und belarussische Seiten werden entsprechend über den Stand der Dinge auf diesem Gebiet in Deutschland informiert; wir schaffen einen Mechanismus zur Unterstützung russischer und belarussischer Menschenrechtsverteidiger, Opfer politischer Repressionen und politischer Gefangenen.
Wir freuen uns auf Ihre Teilnahme am deutsch-russischen Menschenrechtsdialog auf unserer Website und in den Sozialen Netzen. Ebenso laden wir Sie ein, den Newsletter zu Menschenrechtsfragen zu abonnieren, indem Sie auf den folgenden Link klicken.