Ochirov and Shumekov, two opponents of the war against Ukraine accused of spreading 'fake news' about the Russian army, are political prisoners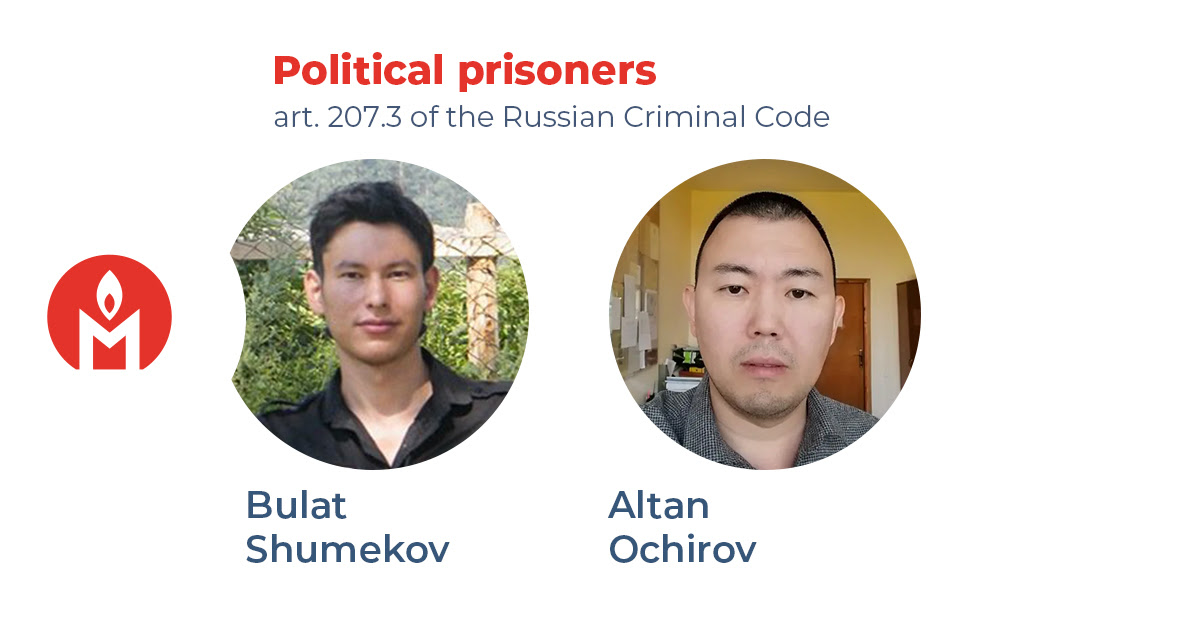 The 'Political Prisoners. Memorial' project, in accordance with international standards, considers Altan Ochirov from Elista and Bulat Shumekov from Kiselyovsk political prisoners. Boris Romanov from St. Petersburg was initially also recognised as a political prisoner yet the measure of restraint against him was later changed to prohibition of certain actions.
Their criminal cases are not directly related to each other, but all three are being prosecuted for statements either made by them or attributed to them about the actions of Russian troops in Ukraine. They are all being prosecuted for exercising the right to freedom of expression. Their prosecutions are part of a full-scale campaign by the Russian authorities to intimidate all opponents in Russia of the war against Ukraine.
We demand the immediate release of Altan Ochirov and Bulat Shumekov and that all criminal charges against the three be dropped.
Who are the three persons concerned and why are they being prosecuted?
Altan Ochirov, a 40-year-old employee of the city administration of Elista, Bulat Shumekov, a 31-year-old civic activist from Kiselyovsk and Boris Romanov, a 34-year-old activist from St. Petersburg, do not know each other. Nevertheless, their cases have much in common. After Russia's full-scale invasion of Ukraine began, they have all been prosecuted under Article 207.3 of the Russian Criminal Code regarding spreading 'fake news' about the Russian army.
Ochirov, who formerly ran opposition Telegram channels in Kalmykia, has been charged with publishing posts critical of the war against Ukraine and spreading 'false information about the death toll.' On 12 April 2022 he was brutally detained at his workplace in the local government offices of the city of Elista and then remanded in custody. However, the Telegram channel Ochirov is accused of running continues to be updated regularly.
Shumekov, a civic activist from Kiselyovsk in Kemerovo Oblast, has been repeatedly prosecuted under administrative law for participation in protest rallies. He was remanded in custody on 15 April 2022. The investigators accused him of publishing 'fake news' 'about means used to conduct' the Russian military operation against Ukraine. He is currently also in pre-trial detention.
St. Petersburg activist and human rights defender Romanov was remanded in custody because of a speech he made at a session in March of the Svetlanovskoye district municipal council in St. Petersburg. A criminal investigation was opened six weeks later because Romanov, in his speech, had  'congratulated his fellow councillors and the audience on the end of the war as a result of negotiations in Istanbul' and subsequently posted a video of the speech on the VKontakte social media site. Romanov has been held on remand from 11 May 2022 to 28 July .
Why do we consider Ochirov and Shumekov political prisoners, and the prosecution of Romanov unlawful and politically motivated?
Article 207.3 of the Russian Criminal Code, under which Altan Ochirov, Bulat Shumekov and Boris Romanov are being prosecuted, contradicts the Russian Constitution, Russia's international obligations and fundamental principles of law.
Article 207.3 criminalises any statements about the use of the Russian armed forces and the activities of Russian state bodies abroad. In the course of an armed conflict, it is not possible to establish the accuracy of information disseminated by various sources. Still less is it possible to establish whether the person who disseminated the information knew it was false. Taken together, these deficiencies determine the unlawful nature of Article 207.3 of the Russian Criminal Code.
The timing and context of the introduction of Article 207.3 into the Russian Criminal Code – after the beginning of large-scale Russian military aggression against Ukraine – allow us to assert that this article was specifically intended to prosecute critics of the Russian authorities. This fully applies to the prosecutions of Altan Ochirov, Bulat Shumekov and Boris Romanov.
More information about the cases of Altan Ochirov,  Bulat Shumekov and Boris Romanov and the position of the human rights project are available on our Telegram channel.
Recognition of an individual as a political prisoner does not imply the 'Political Prisoners. Memorial' project agrees with, or approves of, their views, statements, or actions.
How can you help?
You can write to the three detainees via the website FederalPenitentiaryService-Letter or send letters by ordinary post to the following addresses:
In Russian:
Очирову Алтану Санхимовичу, 1981 г. р., ФКУ СИЗО-1 УФСИН России по Республике Калмыкия, 358007, Республика Калмыкия, г. Элиста, жилой квартал "Северный" № 9.
Шумекову Булату Сайлауевичу, 1991 г. р., ФКУ СИЗО-2 ГУФСИН России по Кемеровской области, 654034, Кемеровская обл., г. Новокузнецк, ул. Полосухина, 3.
In English:
Altan Sankhimovich Ochirov (born 1981), Remand Centre No. 1 of the Russian Federal Penitentiary Service for the Republic of Kalmykia, 9 Severny Residential Quarter, Elista, Republic of Kalmykia, Russia, 358007.
Bulat Sailauevich Shumekov (born 1991), Remand Centre No. 2 of the Russian Federal Penitentiary Service for Kemerovo region, 3 Polosukhin Street, Novokuznetsk, Kemerovo region, Russia, 654034.
You can support all political prisoners by making a donation to the Union of Solidarity with Political Prisoners via PayPal (helppoliticalprisoners@gmail.com) or YooMoney.
Die Lage der politischen Gefangenen und andere Menschenrechtsprobleme verschärfen sich von Jahr zu Jahr. Wir beleben den Dialog zwischen der russischen und der deutschen Menschenrechtsgemeinschaft wieder und bauen ihre konstruktive Interaktion, wechselseitige Information und Unterstützung auf.
Wir stellen Informationen für die deutsche Öffentlichkeit über die Situation des Schutzes von Menschenrechten in Russland und Belarus zur Verfügung und die russische und belarussische Seiten werden entsprechend über den Stand der Dinge auf diesem Gebiet in Deutschland informiert; wir schaffen einen Mechanismus zur Unterstützung russischer und belarussischer Menschenrechtsverteidiger, Opfer politischer Repressionen und politischer Gefangenen.
Wir freuen uns auf Ihre Teilnahme am deutsch-russischen Menschenrechtsdialog auf unserer Website und in den Sozialen Netzen. Ebenso laden wir Sie ein, den Newsletter zu Menschenrechtsfragen zu abonnieren, indem Sie auf den folgenden Link klicken.