Mikhail Kavun, accused of funding Right Sector, is a political prisoner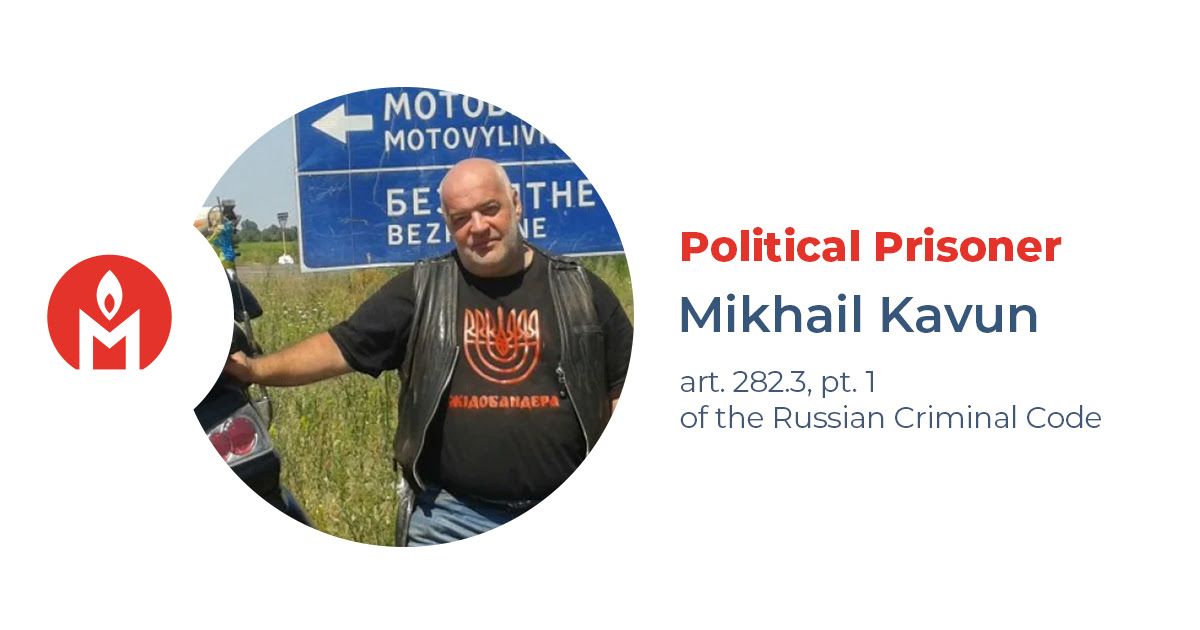 The 'Political Prisoners. Memorial' Project in accordance with international criteria, considers Mikhail Kavun a political prisoner. The case against him is part of the Russian authorities' propaganda campaign against Ukraine and Ukrainians. Kavun's criminal prosecution is politically motivated and unlawful. We consider that the criminal charges are based on falsified evidence and that the alleged crime did not take place.
We demand that Mikhail Kavun be released immediately and that all charges against him be dropped.
Who is Mikhail Kavun and what are the charges against him?
Mikhail Kavun is a 61-year-old geologist from Moscow, an employee of the Schlumberger company who had recently been living in Astrakhan in connection with his work.
A descendant of Ukrainian Jews, before the start of the war he had often travelled through Ukraine on his motorcycle. On one trip, he was photographed wearing a T-shirt with the ironic inscription 'Zhidobandera' ['Banderite Yid']. This, as well as the fact that his motorcycle carries a sticker 'Glory to Ukraine!' gave the FSB reason to believe Kavun holds nationalist views and is a member of the Ukrainian nationalist movement.
On 18 April 2022 a criminal case was opened against him for financing an extremist organisation (Article 282.3, Part 1, of the Russian Criminal Code). He faces up to eight years' imprisonment if convicted.
According to the charges, based on the testimony of secret witnesses, Kavun repeatedly visited Ukraine, where allegedly he provided various kinds of assistance to the leadership of Right Sector, an organisation banned in Russia. In particular, according to the investigators, in 2015-2019 Kavun transferred 'at least 20,000 hryvnias to the political leader of the Ukrainian branch of the Right Sector organisation, I. N. Pirozhok, and at least 70,000 roubles  to other members of the Right Sector organisation to support the organisation's activities.' For this, Kavun allegedly received certificates and thanks 'For assistance in the fight for the independence of Ukraine.'
Kavun maintains his innocence of the charges. According to him, while travelling in Ukraine he met bikers he already knew but never had any dealings with Right Sector, nor did he know any members of this organisation or receive any thanks from them. He donated money to the St. Seraphim Medical Centre in Lviv and to the Roads of Kindness charitable foundation in Kyiv.
Why do we consider Kavun a political prisoner?
The criminal case against Mikhail Kavun was initiated after the start of Russia's large-scale invasion of Ukraine. It needs to be seen as part of a propaganda campaign aimed at inciting hatred towards everything connected with Ukraine and Ukrainians.
Kavun, who comes from a family of Ukrainian Jews, was not afraid to talk about his pro-Ukrainian stance both on social networks or in communication with acquaintances and relatives.
A photograph of Kavun wearing a T-shirt with the ironic inscription 'Zhidobandera,' which refers to a famous Internet meme based on an oxymoron, is not only actively used by Russian pro-government media but was also mentioned in the charges. This, from our point of view, suggests that Kavun's criminal prosecution is intended to intimidate that part of civil society which does not share the official Russian view of Ukraine and Ukrainians.
Kavun's prosecution is largely based on the testimony of secret witnesses, and among the alleged recipients of funding is the former head of one of the branches of Right Sector, Igor Pirozhok, a Russian-Ukrainian neo-Nazi, repeatedly convicted in both countries of various crimes and currently held in a Russian penal colony in Vladimir region where he is therefore under the control of the Russian security forces.
It is important to note that there is no reliable evidence Kavun has been involved with Right Sector.
Moreover, the ban imposed on Right Sector by the Russian Supreme Court would seem unreasonable and unlawful. The reasoning of the Russian Supreme Court's ruling, dated 17 November 2014, does not withstand criticism. It is based on speculation and unverified facts, including the fake 'address of Dmitry Yarosh to Doku Umarov,' the authorship of which Right Sector has denied.
For these reasons, we believe the accusations against Kavun have no foundation in law. The campaign against Right Sector is a form of witch-hunt and an integral part of the Russian authorities' propaganda against Ukraine.
More information about the case of Mikail Kavun and the position of the Human Rights Project are available on our Telegram channel.
Recognition of an individual as a political prisoner does not imply the 'Political Prisoners. Memorial' Project agrees with, or approves of, their views, statements, or actions.
How can you help?
You can send electronic letters to Mikhail Kavun via the online service Federation Penitentiary Service-Letter (all letters must be in Russian). The address for sending is:
In Russian: 107076, ул. Матросская Тишина, д. 18, СИЗО-1, г. Москва, Кавуну Михаилу Марковичу, 1961 г. Р.
In English: Mikhail Markovich Kavun (born 1961), Remand Centre No. 1, 18 Matrosskaya Tishina Street, Moscow, 107076
You can sign a petition created in support of Mikhail Kavun by his family and friends on  Change.org.
You can support political prisoners in Russia by making a donation to the Union of Solidarity with Political Prisoners via YooMoney or PayPal (helppoliticalprisoners@gmail.com).
Die Lage der politischen Gefangenen und andere Menschenrechtsprobleme verschärfen sich von Jahr zu Jahr. Wir beleben den Dialog zwischen der russischen und der deutschen Menschenrechtsgemeinschaft wieder und bauen ihre konstruktive Interaktion, wechselseitige Information und Unterstützung auf.
Wir stellen Informationen für die deutsche Öffentlichkeit über die Situation des Schutzes von Menschenrechten in Russland und Belarus zur Verfügung und die russische und belarussische Seiten werden entsprechend über den Stand der Dinge auf diesem Gebiet in Deutschland informiert; wir schaffen einen Mechanismus zur Unterstützung russischer und belarussischer Menschenrechtsverteidiger, Opfer politischer Repressionen und politischer Gefangenen.
Wir freuen uns auf Ihre Teilnahme am deutsch-russischen Menschenrechtsdialog auf unserer Website und in den Sozialen Netzen. Ebenso laden wir Sie ein, den Newsletter zu Menschenrechtsfragen zu abonnieren, indem Sie auf den folgenden Link klicken.