Rais Mavlyutov, a resident of Tolyatti accused of involvement in the banned Hizb ut-Tahrir, is a political prisoner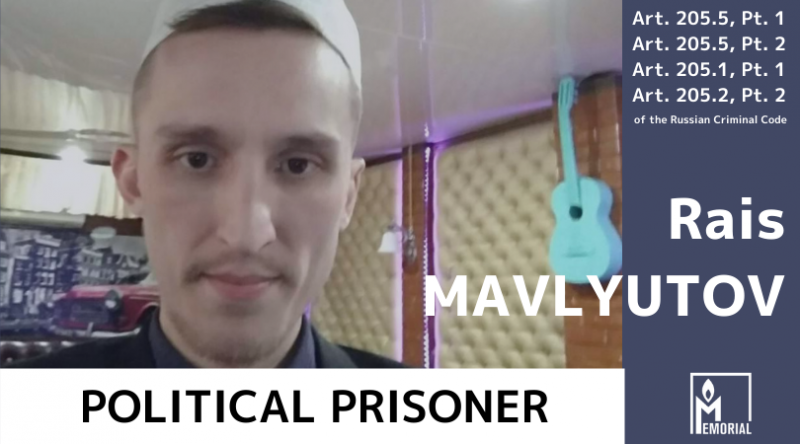 Memorial Human Rights Centre, in accordance with international criteria, considers Rais Mavlyutov a political prisoner. We believe he is being prosecuted for political reasons for the non-violent exercise of freedom of conscience, religion and expression and the right of association. Memorial calls for the immediate release of Mavlyutov.
Who is Rais Mavlyutov?
Rais Mavlyutov, a 31-year-old native of Kazan, was detained on 23 September 2019 in Tolyatti along with three other local Muslims – Radik Khairudinov, Elmar Mamedov and Aleksei Botva.
Mavlyutov was then taken to Kazan where he was remanded in custody. He is currently being held in Pre-trial Detention Centre No. 1 in Yekaterinburg. Mavlyutov has been charged with organising the activity of a terrorist organisation (Article 205.5, Part 1, of the Criminal Code) participating in the activity of a terrorist organisation (Article 205.5, Part 2, of the Criminal Code), financing a terrorist organisation (Article 205.1, Part 1, of the Criminal Code) and public justification of terrorism using the Internet (Article 205.2, Part 2, of the Criminal Code). He faces life imprisonment.
Why does Memorial consider Mavlyutov a political prisoner?
Memorial has studied the charges against Rais Mavlyutov and has concluded that his prosecution is politically motivated and, therefore, the charges against him should be dropped and he should be released from custody.
We believe that the charges against Mavlyutov of organising and participating in the activities of Hizb ut-Tahrir al-Islami, which is banned in Russia, as well as the charges of financing terrorism, are based on the evidence of witnesses who testified that what took place were ordinary activities that did not violate the law (meetings of believers, discussions of religion and politics, joint reading of literature). However, there are serious doubts about the independence of witnesses for the investigation: two are in custody, and the identity of another is classified. Mavlyutov has not been charged with preparing terrorist attacks, making threats of terrorism or inciting violence. In fact, he is accused only of participating in meetings of Muslims at which Hizb ut-Tahrir al-Islami party literature was read and discussed.
We believe that the charges against Mavlyutov of public justification of terrorism using the Internet are also unlawful. The publications on social networks imputed to him contain no justification of terrorism. They state that prosecutions of Muslims on charges of involvement in Hizb ut-Tahrir are unlawful, along with the very designation of the organisation as terrorist. In his publications, Mavlyutov compared Hizb ut-Tahrir with ISIS, whose activities are banned in Russia, and concludes that Hizb ut-Tahrir has nothing to do with ISIS, since their ideologies are quite different.
We consider the 2003 designation of Hizb ut-Tahrir as a terrorist organisation is groundless and unlawful. The Supreme Court decision, which at a single stroke banned a large number of Islamic organisations, devoted one paragraph of three sentences to Hizb ut-Tahrir. These sentences contain no evidence of terrorist activities. Despite this, charges of involvement in any of the organisation's activities automatically result in long prison sentences.
It is the designation of the organisation as 'terrorist' that allows any of its activities – meetings, tea-drinking sessions, discussions, and so on – to be classed as 'terrorist.' According to available information, at least 309 people are currently being prosecuted for involvement in Hizb ut-Tahrir.
We point out that Article 28 of the Russian Constitution protects these actions of believers. It guarantees everyone 'freedom of conscience, freedom of religion, including the right, individually or in community with others, to profess any religion or not to profess any religion, to freely choose, have and disseminate religious and other beliefs and to act in accordance with them.'
Recognition of an individual as a political prisoner or as a victim of politically motivated prosecution does not imply Memorial Human Rights Centre agrees with, or approves of, their views, statements, or actions.
More information about this case and the position of Memorial Human Rights Centre is available on our website.
How you can help
You can support all political prisoners by donating to the Fund to Support Political Prisoners of the Union of Solidarity with Political Prisoners via PayPal, using the e-wallet at helppoliticalprisoners@gmail.com.
Die Lage der politischen Gefangenen und andere Menschenrechtsprobleme verschärfen sich von Jahr zu Jahr. Wir beleben den Dialog zwischen der russischen und der deutschen Menschenrechtsgemeinschaft wieder und bauen ihre konstruktive Interaktion, wechselseitige Information und Unterstützung auf.
Wir stellen Informationen für die deutsche Öffentlichkeit über die Situation des Schutzes von Menschenrechten in Russland und Belarus zur Verfügung und die russische und belarussische Seiten werden entsprechend über den Stand der Dinge auf diesem Gebiet in Deutschland informiert; wir schaffen einen Mechanismus zur Unterstützung russischer und belarussischer Menschenrechtsverteidiger, Opfer politischer Repressionen und politischer Gefangenen.
Wir freuen uns auf Ihre Teilnahme am deutsch-russischen Menschenrechtsdialog auf unserer Website und in den Sozialen Netzen. Ebenso laden wir Sie ein, den Newsletter zu Menschenrechtsfragen zu abonnieren, indem Sie auf den folgenden Link klicken.