Rais Gimadiev, a resident of Tatarstan sentenced to 16 years in prison on terrorism charges, is a political prisoner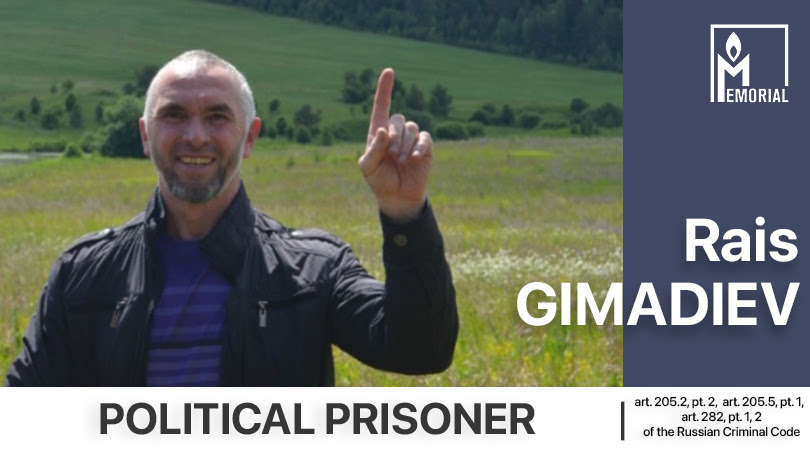 Memorial Human Rights Centre, in accordance with international guidelines, considers Rais Gimadiev a political prisoner. We believe Gimadiev's imprisonment is politically motivated and is on account of his religious beliefs and the non-violent exercise of freedom of expression, religion, peaceful assembly and association guaranteed by the Russian Constitution and the International Covenant on Civil and Political Rights, as well as the European Convention on Human Rights.
Memorial Human Rights Centre calls for the immediate release of Rais Gimadiev and a review of his conviction.
Who is Rais Gimadiev and what were the charges against him?
Rais Gimadiev, 41, lived in Naberezhnye Chelny in Tatarstan. He had previously been prosecuted in 2007 and 2011 on charges of organising and participating in the activities of an extremist organisation (Article 282.2, Parts 1 and 2, of the Russian Criminal Code).
In October 2018, Gimadiev was again arrested. On 13 May 2020 the Central District Military Court in Ekaterinburg found him guilty of organising the activities of a terrorist organisation (Article 205.5, Part 1, of the Russian Criminal Code) and publicly justifying terrorism on the internet (Article 205.2, Part 2, of the Russian Criminal Code). He was sentenced to 16 years' imprisonment in a strict regime penal colony.
According to the court's verdict, Gimadiev was one of the leaders of Hizb ut-Tahrir al-Islami (the Islamic Liberation Party, banned in the Russian Federation as a terrorist organisation). The prosecution alleged he was responsible for setting up at least one clandestine cell of the organisation in Tatarstan and for persuading people to join the party by leading them into 'religious error.' He also allegedly provided support to a convicted member of the organisation and posted on his Facebook page justifications for party members' terrorist activities.
Gimadiev pleaded not guilty and argued he was being criminally prosecuted because of his religious beliefs.
Why do we consider him a political prisoner?
Memorial Human Rights Centre concluded Gimadiev was wrongly convicted because he had not been charged with preparing or carrying out a terrorist attack, making terrorist threats or inciting violence. He was charged only with organising meetings at which Hizb ut-Tahrir literature was read and discussed, as well as with persuading other people to attend the meetings.
Memorial considers the 2003 decision of the Supreme Court designating Hizb ut-Tahri al-Islami a terrorist organisation unlawful since the decision contains no evidence of terrorist activities on the part of the organisation.
In our assessment, the trial did not even prove that Gimadiev had involved other people in the organisation's activities.
The testimony of a key witness, Erik Karmatsky, also raises doubts. He claimed Gimadiev had persuaded him to adopt Hizb ut-Tahrir beliefs, although by then he had already been a member of the organisation for a long time, had been convicted and was serving his sentence. Karmatsky was probably cooperating with the FSB. In 2017 Karmatsky was given just three years' imprisonment on charges of taking part in the activities of a terrorist organisation (Article 205.5, Part 2, of the Russian Criminal Code, which prescribes a penalty from 10 to 20 years in prison). During his time in prison, Karmatsky was a prosecution witness in the case of another person convicted of belonging to Hizb ut-Tahrir, Ramil Gataullin, whom Memorial also considers a political prisoner.
Other witnesses for the prosecution changed their testimony at the trial, stating that their original testimonies had been given under the influence of FSB officers.
Gimadiev also promised to provide material assistance (5,000 roubles) to a convict serving a sentence for membership in Hizb ut-Tahrir, something the court also considered a crime.
A more detailed description of the case and the position of Memorial Human Rights Centre can be found on our website.
Recognition of an individual as a political prisoner or as a victim of politically motivated prosecution does not imply Memorial Human Rights Centre agrees with, or approves of, their views, statements, or actions.
How to help
You can support all political prisoners by donating to the Fund to Support Political Prisoners of the Union of Solidarity with Political Prisoners via PayPal, using the e-wallet at helppoliticalprisoners@gmail.com.
Read this statement on Memorial's web-site
Die Lage der politischen Gefangenen und andere Menschenrechtsprobleme verschärfen sich von Jahr zu Jahr. Wir beleben den Dialog zwischen der russischen und der deutschen Menschenrechtsgemeinschaft wieder und bauen ihre konstruktive Interaktion, wechselseitige Information und Unterstützung auf.
Wir stellen Informationen für die deutsche Öffentlichkeit über die Situation des Schutzes von Menschenrechten in Russland und Belarus zur Verfügung und die russische und belarussische Seiten werden entsprechend über den Stand der Dinge auf diesem Gebiet in Deutschland informiert; wir schaffen einen Mechanismus zur Unterstützung russischer und belarussischer Menschenrechtsverteidiger, Opfer politischer Repressionen und politischer Gefangenen.
Wir freuen uns auf Ihre Teilnahme am deutsch-russischen Menschenrechtsdialog auf unserer Website und in den Sozialen Netzen. Ebenso laden wir Sie ein, den Newsletter zu Menschenrechtsfragen zu abonnieren, indem Sie auf den folgenden Link klicken.