Memorial says Kaluga resident, Ivan Lyubshin, convicted of justifying terrorism for a comment on social media, is a political prisoner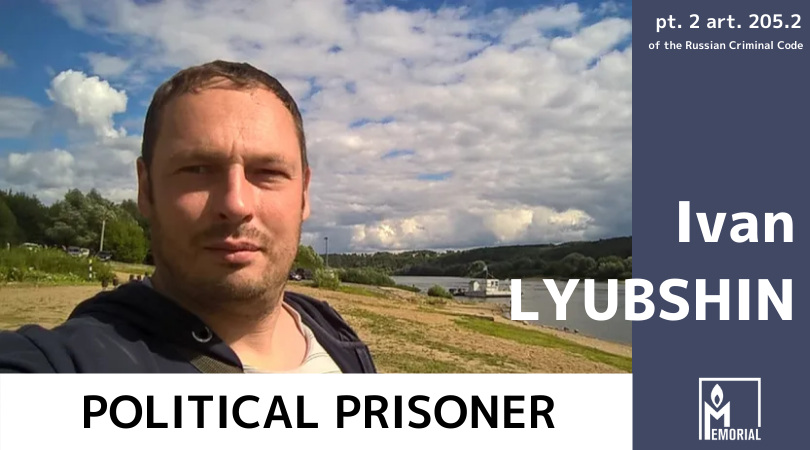 Memorial Human Rights Centre considers Kaluga resident Ivan Lyubshin a political prisoner and believes the charges against him should be dropped, Lyubshin himself immediately released, and his allegations of torture impartially investigated.
Who is Ivan Lyubshin and what has he been charged with?
On 31 October 2018 Ivan Lyubshin reposted on his page on the VKontakte social media site the news that 17-year-old anarchist Mikhail Zhlobitsky had blown himself up in the entrance hall of the FSB building in Arkhangelsk. He added some comments of his own about the deceased.
These comments became grounds for his criminal prosecution. Almost a year later, on 14 October 2019, criminal proceedings were instituted against Lyubshin under Part 2 of Article 205.2 of the Criminal Code (public justification of terrorism and advocacy of terrorism committed using the Internet).
On the morning of 15 October 2019, Lyubshin was detained at a bus stop by FSB officers. According to Lyubshin, the FSB officers put him in a car, handcuffed him and took him to a forest where they kicked him and used an electroshock device on him. They then took him to the Investigative Committee for questioning. On 17 October, the Kaluga district court placed him under house arrest.
Subsequently, doctors recorded 'multiple bruises' on Lyubshin's legs, arms, shoulder, ear, back and lower back. However, first the Kaluga prosecutor's office and then the federal Investigative Committee refused to initiate criminal proceedings against the FSB officers for torture.
On 25 December 2019 Lyubshin was released under travel restrictions.
On 5 March 2020, the 2nd Western District Military Court found Lyubshin guilty of committing a crime under Part 2 of Article 205.2 of the Criminal Code and sentenced him to five years two months in a general regime penal colony with a subsequent ban on working as a website administrator for two years.
What is wrong with Article 205.2 of the Criminal Code?
Memorial noted in its report 'Statements in support of terrorism' that Article 205.2 of the Criminal Code has effectively replaced the partially decriminalized Article 282 of the Criminal Code (incitement of hatred or enmity, as well as abasing human dignity) as the main instrument for political motivated prosecution with regard to statements made on the Internet.
In particular, the report said, 'in many instances criminal prosecutions of this kind are characterized by a formalistic approach and a punishment markedly disproportionate to the real danger [of the incriminated act], and sometimes prosecution may be retaliation for political views or for social or political activism.'
Why Lyubshin?
The selection of Lyubshin as a victim of criminal prosecution could have been influenced by his opposition views, the fact that some of his friends on social media are opposition activists in Kaluga and the fact that he had previously been associated with an Orthodox Church that is an alternative to the Moscow Patriarchy.
It is obvious that Lyubshin's prosecution is connected with the fact that he has long been under observation by the security services. In 2017 he was fined of 400,000 roubles under Part 2 Article 282 of the Criminal Code (incitement to hatred or enmity) and Part 2 Article 354.1 of the Criminal Code (rehabilitation of Nazism using the media). In addition, Lyubshin was charged under Point 'b' of Part 3 of Article 242 of the Criminal Code (distribution of pornography using the media) but was acquitted at his trial.
Why does Memorial consider Lyubshin a political prisoner?
Lyubshin is not accused of inciting terrorist attacks or other violent acts. His prosecution is related solely to a few careless comments about a news item on his personal social media page that has a very small audience. These comments did not contain explicit calls for violence and posed a negligible public danger, if any at all. Moreover, Lyubshin had already deleted the comments by the time the criminal case was initiated. His prosecution should be seen in the context of the prosecutions of members of the political opposition, journalists and other writers on public affairs and those who accidentally became involved in the discussion of the causes and nature of the act, as well as the personality, of Mikhail Zhlobitsky, who blew himself up in the FSB building in Archangelsk.
The information we have suggests that, after Lyubshin's detention, he was tortured, something which has become a typical means of interrogation in 'terrorist' cases investigated by the FSB. For example, a medical exam recorded numerous bruises and contusions on Lyubshin's body 'near his ear, on his wrists, his right elbow, left shoulder, chest, ribs, lower back and right shin.'
Memorial Human Rights Centre, in line with the international guidelines defining the term 'political prisoner,' believes this criminal prosecution is politically motivated. It is intended to enforce a cessation of criticism of government authority and the retention of power by those in public office. It is being carried out because of the views of the person prosecuted, based on his non-violent exercise of freedom of expression and information, and in violation of the right to a fair trial. The deprivation of liberty imposed on Ivan Lyubshin is manifestly wrong in terms of the acts of which he is accused, taking into account the combination of the dubious character of the prosecution, its disproportionate nature in the light of any potential danger to the public, and the serious violations of his rights.
More information about this case and the position of Memorial Human Rights Centre is available on our website.
Recognition of an individual as a political prisoner or as a victim of politically motivated prosecution does not imply Memorial Human Rights Centre agrees with, or approves of, their views, statements, or actions.
You can support all political prisoners by donating to the Fund to Support Political Prisoners of the Union of Solidarity with Political Prisoners via PayPal, using the e-wallet at helppoliticalprisoners@gmail.com.
Read this statement on Memorial's web-site
Die Lage der politischen Gefangenen und andere Menschenrechtsprobleme verschärfen sich von Jahr zu Jahr. Wir beleben den Dialog zwischen der russischen und der deutschen Menschenrechtsgemeinschaft wieder und bauen ihre konstruktive Interaktion, wechselseitige Information und Unterstützung auf.
Wir stellen Informationen für die deutsche Öffentlichkeit über die Situation des Schutzes von Menschenrechten in Russland und Belarus zur Verfügung und die russische und belarussische Seiten werden entsprechend über den Stand der Dinge auf diesem Gebiet in Deutschland informiert; wir schaffen einen Mechanismus zur Unterstützung russischer und belarussischer Menschenrechtsverteidiger, Opfer politischer Repressionen und politischer Gefangenen.
Wir freuen uns auf Ihre Teilnahme am deutsch-russischen Menschenrechtsdialog auf unserer Website und in den Sozialen Netzen. Ebenso laden wir Sie ein, den Newsletter zu Menschenrechtsfragen zu abonnieren, indem Sie auf den folgenden Link klicken.